This is the third and final episode of "Phoenix,"  a short story about an improved kind of life insurance.  If you haven't read episode 1, start here.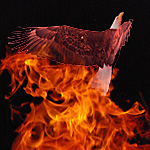 (video on – metallic cylindrical interior)
Frank here.  So here I am in the itravel pod on Olympus Station, Mars orbit, which is home, heading out to Prince Rupert BC.  Who the heck was Prince Rupert, anyhow?  This system's running slower than ever.  I've been sitting doing dick for five minutes, bored out of my skull, listening to Eleanor Rigby on their crappy sound system.  Okay. here we go, I'm finally getting a tingle…a-a-a-and…must be there!
Welcome to Prince Rupert, Canada's Pacific Rim deep-water port. (more…)