Parfit's Glass Tunnel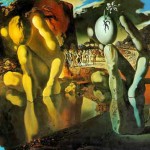 In the Introduction to this project, I said:
It's the strong – and I believe, irrational – hold that the idea of the self has over us, and particularly its role in motivating action, that led me to characterize it as the 'phantom self'.  Like the Phantom of the Opera, the self has a powerful voice that demands to be obeyed.  Like an amputee's phantom limb, it is a vividly felt presence – but there is nothing really there.
It is time to flesh out that characterization.
No contemporary philosopher – perhaps no philosopher ever, in the West – has done more to break the phantom's grip than Derek Parfit.  In Reasons and Persons, Parfit argues persuasively that, although we are strongly inclined to believe that our continued existence is "a deep further fact, distinct from physical and psychological continuity", that belief is not true.  He goes on to describe the difference this philosophical conclusion made to his own life.
Is the truth depressing?  Some may find it so.  But I find it liberating, and consoling.  When I believed that my existence was such a further fact, I seemed imprisoned in myself.  My life seemed like a glass tunnel, through which I was moving faster every year, and at the end of which there was darkness.  When I changed my view, the walls of my glass tunnel disappeared.  I now live in the open air.  There is still a difference between my life and the lives of other people.  But the difference is less.  I am less concerned about the rest of my own life, and more concerned about the lives of others. (RP p 281) (more…)