This is episode 2 of a short story about fusion – two persons coming together to share one body.   If you haven't yet read episode 1, start here.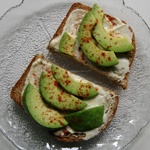 When consciousness returns, May finds it cluttered, like a room in which she can't find something she's looking for.  Adrift in the jumble, she clutches at anything familiar.  She knows she's in the lab – she remembers the looming, blinking machines.  Other, more important things are hidden.  She can't recall her age.
She used to sail with her dad up and down Ghost Lake, in strong winds.  If she was scared, she only needed to look at his face.  He grinned at the sun and wind, embracing any weather.  He worked in forestry.  The memory of a year ago chills her, like a snow cloud blown over the sun.  A sudden headache at breakfast, her mother said.  Then he doubled over and vomited on the floor.  How could that happen?
The enormous prickly helmet, she notices with relief, has been removed.  Stretching, wriggling her toes, she grows annoyed that no one is there to attend to her.  She cranes her neck, looking for her clothes.  She can't remember what she wore to the lab.
I am now familiar with the entire literature on hemispheric specialization, she thinks, to comfort herself.  Or most of it anyway.  I'm a leading expert in computational neuroscience.  Now I know descriptive and inferential statistics, and ASL. She pictures Nina and Tina going through their intricate routines.  But the meanings are as dark as ever.  I don't know ASL! she realizes in astonishment.  Didn't Jerry know it?
There was never enough time, she answers herself defensively.
Nervous, she wishes Sam would come with her clothes – whatever they were.  She vaguely recollects a purple departmental T-shirt, which needed washing, with a picture of a nerve cell.  But that wasn't mine! She even remembers its sour smell as she pulled it over her head.  It must have been mine. And down, over her flat, sparsely-haired chest…. (more…)