"Coed" is a fictional exploration of fusion – two persons coming together to cohabit in a shared body.  Fusion cases are more complex than fission, involving greater discontinuities, botb physical and psychological.  You may find that contemplation of fusion cases fosters real doubt as to whether two persons are present, or one.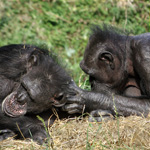 She knows he's in there – she can see him brokenly through the office door's bevelled glass, framed and backlit by the window, inert in his chair.  "It's me, May," she calls softly, not wanting to attract attention in the hallway.
The last thing Jerry wants now is to be bothered by students.  With time suddenly so precious to him, he is not prepared to squander it on their all-too-protean intellects.  The knob rattles, making him seethe.  Typical of students nowadays; they'll barge in anywhere.  They hardly care which washrooms they use.  Even May startled him at the urinal, once.  They were both convulsed by giggles, meeting like that.  He scolded her, but she didn't care.  Abruptly, it occurs to Jerry that it's probably May now – she said she'd drop by this afternoon.
At last she sees the fragmented figure inside lurch to its feet, lean towards the door.
He was right – May stands there with her shining golden hair and the essay-in-progress which has been her excuse for visiting him during the entire term.  Playfully, she kicks the door closed behind her.
Instead of reaching out to her, Jerry stands listlessly, his arms limp.  She wonders what's wrong.
He realizes he will lose this too.  In six months – a year at most – she will avoid his gaze.  Not only she, but all the other tantalizing female students.  And even the ones that aren't tantalizing.  But now she is waiting for him, to say something.  "How much have you written since last time?"  His tone is collegial, only a little condescending.
"Nothing," she admits without a trace of guilt.  She dares him with her eyes to reprimand her, but her playful invitation is rebuffed.
That's how he feels about her too – absolutely guiltless.  It's a wonderful relationship, even more so than his relationship with Carole, which he once thought wonderful enough to justify the unpleasantness and expense of a divorce.  And now when he has achieved this, and so much else – when his life has at last taken a finished shape, with full-professor status, four-month European vacations, and a conscience mature enough to allow him the things he really wants – now, at age forty, it's over. (more…)